The autumnal period might be very tough. For me it's already an everyday fight to get up from my warm and cosy bed. Even if my classes start after eleven it is almost mission impossible to get at the university on time. On the other hand there are a lot of things you can do during that rainy period. Well, most of them you can do also in the summer, but what for?
Let's start with the part I love the most, which is the autumnal and winter cuisine. Well, you must agree that there is no better way to warm up than cooking - or I'd rather say - baking. At first, the oven is getting warmer and warmer when you're preparing a cake. Then you put it into the oven and every 5 minuts you watch it growing up feeling that it also warms your heart up. And the best part is when the cake is ready, you take it off, you cut a proper piece and you eat it warming up your belly. Oh, I love that feeling! It's also necessary to remember about the spices. For me the smell and the taste of these days is the one of cinnamon. I could add it to anything I eat, I think: to a cake, of course, to coffee or tea, to an oatmeal and so on...
And last but not least of the culinary hits for rainy or snowy days - hot chocolate. You must agree that the colder it is outside, the better it tastes.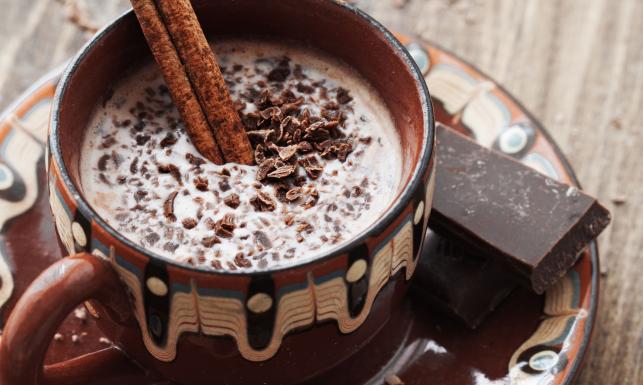 Last year I have also found a passion, that makes me accept the fact that the temperature is in the continous decline which is ice skating. Yesterday I went to the ice rink for the first time after a long, long break and I didn't break anything at all! :) I really like this sport and I recommend it to everyone, especially if you often get cold. Yesterday morning I was feeling pretty bad, I was sure I would be ill the next day. But after the ice skating I was feeling very well and so am I today. I believe that the sport in quite low temperature helps you build your selfresistance.
I won't write about music today, although it's one of the best ways to sweeten you the long evenings spent at home, because it's just obvious. So the last thing I would recommend you, if you have some free time, is to find you a good book, a nice TV series or an animated movie and to get under the blanket with a cup of tea/coffee/hot chocolate and just enjoy the autumn or the winter. The one I associate with this period is the Life with Louie. I invite you to watch the first episode and I'm sure you're gonna love it. That's the cartoon I've watched since my childhood but I still think it's just awesome. I've tried to watch it in English today, but the Polish dubbing is incomparably better.